We are so pleased to announce five brand new products are on sale now! In recognition of National Pet Dental Month, all of our dental products (including our super tasty Dental Treats For Dogs) are on sale through the month of February! Stock up now!!!
Buffalo Bully Sticks For Dogs (Four 9" Sticks)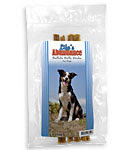 Dogs love to chew, and our new Buffalo Bully Sticks are an all-natural way to satisfy this instinctive desire. Plus they'll help reduce tartar and maintain dental health, all at the same time. On Sale Now!



Buffalo Meat Strips For Dogs (3.5 Ounces)



All canines large and small crave savory treats, and our Buffalo Meat Strips will please any size pup. These meaty morsels are completely nourishing and oh so healthy. In fact, we predict that they will be a real crowd pleaser! Buy Now! 



Buffalo Lung Fillets For Dogs (8 Ounces)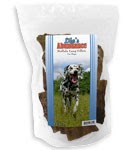 Our Buffalo Lung Fillets may not sound appetizing to you, but we guarantee dogs will find them simply irresistible. These savory snacks provide pups with a rewarding and fulfilling chewing experience. Buy Now!

All of our wholesome buffalo chew treats are made from free-range, grass-fed buffalo. They are all-natural and contain no additives or preservatives. In addition, buffalo meat is a leaner alternative to beef and it is suitable for dogs with food sensitivities.

SPECIAL FEBRUARY 15% OFF SALE

In recognition of National Pet Dental Month, we are offering special discounts on the dental health products for dogs below. This sale is for the month of February only, so order today!
​​​​Why Choose Life's Abundance dog and cat products?

Life's Abundance has had NO RECALLS EVER!

Life's Abundance has been in business since 1999.

Life's Abundance currently has 6 warehouses to make shipping to you as quick as possible.

Life's Abundance dry dog and cat foods are generally shipped within 6 weeks of being made. They don't sit in non climate controlled warehouses or semi trailers for months before hitting the store shelves.
Life's Abundance dog and cat foods are made in small, quality controlled batches for your furry loved one.
New Customer Special!
Want to receive our special wholesale pricing? Receive our autoship prices without being on an autoship and shop when you want.
Click here
to set up your wholesale account.
Enjoy your day!


Lisa and Rich Jelinek
Health4UandPets.com